Try a twist on holiday tradition with this delicious and healthy raw pumpkin pie recipe.
Crust: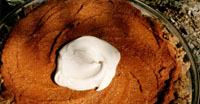 2 cups almonds, soaked and dehydrated 2 hours
1 cup Medjool dates, soaked 1 hour to soften
¼ tsp vanilla
¼ tsp cinnamon
Date soaking water if necessary
To make: Place almonds in food processor and process until mealy. Slowly add in dates, water, vanilla, and cinnamon to form a dough consistency. Pat into a glass pie plate so that crust is at least ¼ inch thick.
Filling:
2 cups pumpkin puree
1 – 1 ½ cups dates, soaked 1 hour
¼ cup raisins, soaked 1 hour
½ cup cashews, soaked 4 hours
2 persimmons, peeled*
2 sapotes**
½ – 1 tsp cinnamon
1 – 2 tsp vanilla
¼ tsp cloves
¼ tsp nutmeg
¼ tsp cardamom
Raisin or date soaking water
3 Tbs psyllium
Dash of Celtic sea salt

To Make: Put peeled and chopped pumpkin through the Champion juicer with the blank in place. Then run the dates, raisins, and nuts through the Champion juicer, again with the blank attachment. Combine the two then add the mixture to the Vita-Mix, along with the remaining ingredients (except for the psyllium husks). Use just enough soaked raisin water to keep the blades turning. Remove mixture to a larger bowl and stir in psyllium husks. This will help to firm the pie so that it slices neatly. Scoop mixture into the crust and chill 2 hours before serving. Garnish with Macadamia Nut Cream Frosting.
Macadamia Nut Cream Frosting
1 ½ cups macadamia nuts, soaked overnight
½ cup fresh orange juice, papaya juice, or coconut water
¼ cup agave syrup or honey
1 tsp almond extract
To Make: Blend all ingredients in the Vita-Mix until smooth and creamy. Top pie and serve chilled.
*If you are having trouble finding persimmons, try substituting mango or apple.
** If you are having trouble finding sapotes, try substituting banana or young coconut.
All recipes are from Raw Transformation